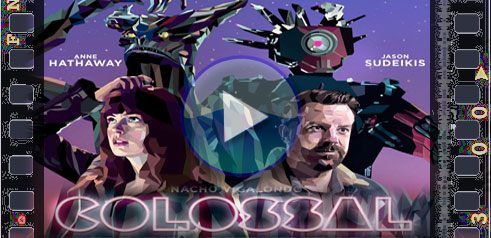 Colossal subtitled (15) 109 mins
Offbeat comedy. A giant monster appears in South Korea. Gloria discovers a connection between her and the monster – when she moves, it moves... Stars Anne Hathaway and Jason Sudeikis. ★★★★ Empire
Please ask your nearest cinemas to screen this film with subtitles!
London & surround:

Covent Garden Odeon
Fri 26 May 12:00
Peckham PeckhamPlex
Mon 29 May 18:15

UK:

Basildon Cineworld
Sun 28 May 19:45
Chelmsford Everyman
Wed 31 May 16:30

Ireland:
No listings provided. All cinemas can screen the latest films with subtitles - please ask them to!
Please ask your nearest cinema to screen this film with subtitles!
---
Shows added when announced! Cinemas schedule shows from Fri to Thurs. Most subtitled shows are at weekends. Bookmark and check this website on Fridays for upcoming shows!
All cinemas can show all films on this website with subtitles. Please ask your nearest cinema to screen them! IMPORTANT! We receive accessible listings directly from cinemas. Unless urgent amendments are required, listings are updated on this website by Friday. We can take NO RESPONSIBILITY for postponed or cancelled shows. If cinemas inform us of changes we will tell you via this site. If they don't inform us, we can't inform you. We recommend that you should always request confirmation that a show is definitely on.
---
Free draw! Click here to provide feedback for a chance to win the DVD or Blu-Ray of the film when it's released!
---
2 for 1 cinema card for carers!
---
Never miss a subtitled movie! For suggestions, corrections, complaints, to be notified weekly of new releases, or whatever, please click HERE
---
Supported by the BFI, film distributors and others. Read about our sponsors HERE