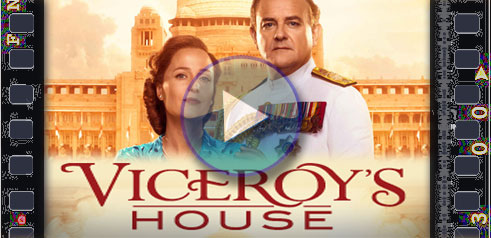 Viceroys House subtitled (12a) 106 mins
Drama. In 1947, Lord Mountbatten assumes the post of last Viceroy, charged with handing India back to its people, living upstairs at the house which was the home of British rulers, whilst 500 Hindu, Muslim and Sikh servants lived downstairs. Stars Gillian Anderson, Michael Gambon, Hugh Bonneville. ★★★★ The Times
Please ask your nearest cinemas to screen this film with subtitles!
London & surround:

Croydon David Lean
Thu 27 April 14:30
Epsom Odeon
Thu 30 March 13:45
Esher Everyman
Tue 28 March 18:00

UK:

Basingstoke Festival Place Vue
Tue 28 March 19:20
Bristol Cribbs Causeway Vue
Sun 26 March 12:50, Tue 28 March 18:00
Camberley Vue
Tue 28 March 19:15
Cardiff Chapter Arts
Mon 27 March 18:00, Tue 28 March 10:30, Wed 29 March 14:30
Chatham Odeon
Mon 27 March 13:15
Clevedon Curzon
Wed 05 April 13:30
Eastleigh Vue
Tue 28 March 18:05
Galashiels Pavillion
Thu 30 March 17:00
Hebden Bridge PicturehouseHebdenBridge
Sun 26 March 16:30
Oxford UPP
Tue 04 April 18:45
Pershore Number 8
Mon 10 April 19:30
Plymouth Vue
Wed 29 March 17:10
Southport Vue
Tue 28 March 19:50
Swindon Shaw Ridge Cineworld
Mon 27 March 17:20
Teesside ARCStockton
Thu 06 April 14:00
Tewkesbury Roses
Tue 18 April 19:30
Walsall Showcase
Mon 27 March 19:05
York Vue
Tue 28 March 18:55

Ireland:
Please enquire at cinema! All can show the latest films with subtitles!
Please ask your nearest cinema to screen this film with subtitles!
---
Shows added when announced! Cinemas schedule shows from Fri to Thurs. Most subtitled shows are at weekends. Bookmark and check this website on Fridays for upcoming shows!
All cinemas can show all films on this website with subtitles. Please ask your nearest cinema to screen them! IMPORTANT! We receive accessible listings directly from cinemas. Unless urgent amendments are required, listings are updated on this website by Friday. We can take NO RESPONSIBILITY for postponed or cancelled shows. If cinemas inform us of changes we will tell you via this site. If they don't inform us, we can't inform you. We recommend that you should always request confirmation that a show is definitely on.
---
Free draw! Click here to provide feedback for a chance to win the DVD or Blu-Ray of the film when it's released!
---
2 for 1 cinema card for carers!
---
Never miss a subtitled movie! For suggestions, corrections, complaints, to be notified weekly of new releases, or whatever, please click HERE
---
Supported by the BFI, film distributors and others. Read about our sponsors HERE