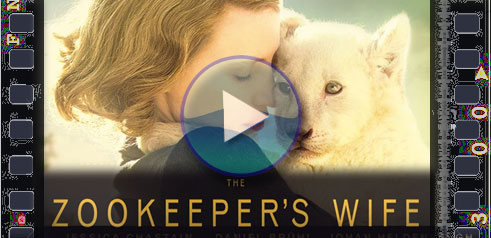 The Zookeepers Wife subtitled (12a) 127 mins
True Drama starring Jessica Chastain and Daniel Bruhl. Warsaw, 1939. Antonina and her husband work tirelessly at the zoo, until their lives take a dark turn when Nazi Germany invades Poland.  Desperate to make a difference, Antonina hides refugees people in her zoo.
Please ask your nearest cinemas to screen this film with subtitles!
London & surround:
Leicester Square Cineworld
Tue 02 May 14:30
West India Quay Cineworld
Mon 01 May 15:40

UK:

Barnstable Scott
Thu 04 May 19:50
Bath Odeon
Wed 03 May 15:10
Bath Picturehouse
Wed 03 May 10:45
Beverley Parkway
Thu 04 May 17:00
Birmingham Mac
Sun 21 May 19:00
Brentford Watermans
Tue 23 May 18:00
Bristol Scott
Tue 02 May 17:00
Didsbury Cineworld
Thu 04 May 15:00
Newport Spytty Wales Cineworld
Mon 01 May 18:00
Southampton Odeon
Tue 02 May 11:00
Tewkesbury Roses
Sun 21 May 19:30, Wed 24 May 14:00
Wareham Rex
Sun 28 May 19:10
Worthing Dome
Tue 02 May 14:30

Ireland:
No listings provided. Please ask your nearest cinemas to provide accessible shows for people with hearing loss - all can show the latest films with subtitles!
Please ask your nearest cinema to screen this film with subtitles!
---
Shows added when announced! Cinemas schedule shows from Fri to Thurs. Most subtitled shows are at weekends. Bookmark and check this website on Fridays for upcoming shows!
All cinemas can show all films on this website with subtitles. Please ask your nearest cinema to screen them! IMPORTANT! We receive accessible listings directly from cinemas. Unless urgent amendments are required, listings are updated on this website by Friday. We can take NO RESPONSIBILITY for postponed or cancelled shows. If cinemas inform us of changes we will tell you via this site. If they don't inform us, we can't inform you. We recommend that you should always request confirmation that a show is definitely on.
---
Free draw! Click here to provide feedback for a chance to win the DVD or Blu-Ray of the film when it's released!
---
2 for 1 cinema card for carers!
---
Never miss a subtitled movie! For suggestions, corrections, complaints, to be notified weekly of new releases, or whatever, please click HERE
---
Supported by the BFI, film distributors and others. Read about our sponsors HERE