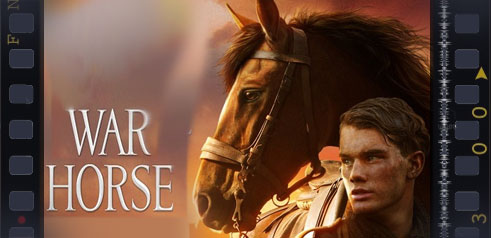 Trailer by IMS
War Horse subtitled (12a) 2 hours 26 mins Oscar nominated
From director Steven Spielberg comes an epic adventure for audiences of all ages. Set during the First World War, the film follows the extraordinary journey of a horse as he moves through the war, changing and inspiring the lives of all those he meets. An odyssey of joy and sorrow, passionate friendship and high adventure, War Horse is one of the great stories of friendship and war - an epic adaptation by one of the great directors in film history. Starring Jeremy Irvine, Emily Watson and David Thewlis. **** Four stars! Empire
Shows added when announced! Most cinemas - including all 3D and digital-equipped cinemas - can screen this film with subtitles. Please ask cinemas to screen it!
Read about how it all works HERE
Most subtitled shows are at weekends. Check this website on Fridays for upcoming shows.
Important!
We receive accessible listings directly from cinemas. If cinemas inform us of changes, we will tell you via this website. Many cinemas schedules are "SUBJECT TO CHANGE WITHOUT NOTIFICATION". Sometimes the files necessary for a subtitled or described film are not available, or are not delivered to the cinema on time. The only way to be 100% sure is to check with the ACTUAL cinema before you plan a visit. But DOUBLE check, preferably with a manager. We recommend that you should always request confirmation that a show is definitely on.
Never miss a subtitled movie!
Click HERE to be notified weekly of new releases.
The UK leads the world in accessible cinema!
Most popular cinemas now have facilities to screen the latest films with subtitles & audio description for people with hearing or sight loss.
"It's the accessible cinema experience:
SEE the dialogue! HEAR the action!"
Click for quotes from people that have
experienced 'accessible' cinema. Add your own quote!
Sponsored by the UK Film Industry